Article courtesy of New Zealand Hunting & Wildlife (Winter 2020, Issue 209)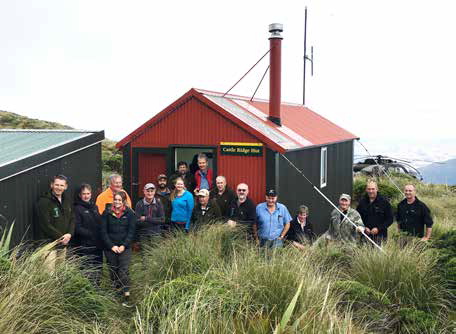 CATTLE RIDGE WHERE THE HUT IS SITUATED, WAS NAMED IN THE 1880S BECAUSE CATTLE INFILTRATED THE TARARUA RANGES. THEIR PRESENCE IS REVEALED BY NAMES LIKE COW CREEK, COW SADDLE AND CATTLE RIDGE. THE CATTLE WERE REMOVED IN THE 1930S.
WORDS BY: SIMON GIBSON
The original hut was built by Chris Main with an open fireplace. Just on completion the builders rode out a big storm. Builder Chris Main commented ''Soon after we finished Cattle Ridge Hut we were staying there in rain and howling wind that was sending spouts of water up through a knot hole in the floor; there was no question of going outside! We could not light the fire because the top section of the chimney was blown over". The hut, located in the northern Tararuas sits high above the bush line surrounded by leatherwood, which provides no shelter. It looks east to the distant Wairarapa plains. One of our great back country legacies is the network of huts built by the New Zealand Forest Service for deer cullers. Cattle Ridge Hut was rebuilt in the summer of 1960-1961 and is one of these. A classic 1960s galvanised, flat iron six-bunk S70 hut. The open fire evolved into a pot belly but that was removed by DOC in the 1990s due to a concern about lack of available fuel nearby. It has endured nearly sixty years of northerly gales that frequently lash the area and has provided a haven for trampers and hunters alike.
Access is from the end of Putara Road near Eketahuna. After a pleasant three hour forest tramp Roaring Stag Lodge is reached which sits beside the Ruamahanga River. From there it's all uphill.
Tony Macklin's first trip to Roaring Stag Lodge came about in the early seventies which lead to numerous trips up to Cattle Ridge Hut especially in the eighties during the roar period with the likes of Phil Whitelaw and later with family members.
''My first visit to the hut in 1991 with my eleven year old son Joe, seemed to take a long time but the 700 metre ascent from the river is just a solid two hour grunt.
And grunt it is, with a gradient of 1/2.57 making it one of the steepest track climbs in the Tararuas. But it's worth it, with fabulous views down the Ruamahanga River Valley and the Blue Range hills with beyond the northern Wairarapa farmland." Cattle Ridge Hut was designated a 'community hut' by DOC in the midnineties given its close proximity to Roaring Stag Lodge. This effectively meant that if a community group didn't step up and take on a caretaker role then the hut would go. The Wellington Branch of the NZDA was already looking after Roaring Stag Lodge, which is part of the core network of Tararua Huts so took on the caretaker role for Cattle Ridge Hut.
In February of 1996, Tony and his son Joe along with Phil Whitelaw were flown in. They repainted the hut, which was in desperate need of some attention. This was probably the last time it was painted until its recent restoration.
By 2012 the hut was in a dire state and DOC decided to dismantle and remove the structure. This decision was met with much angst and resistance from outdoor users. Tony Macklin from the Wellington Branch of NZDA and Joe Nawalaniec from Rathkeale College campaigned to save the hut. Their efforts paid off when a management agreement was reached between DOC and the Wellington Branch.
Joe Hansen from DOCs Wairarapa office was a huge help in achieving a solution that was agreeable to all.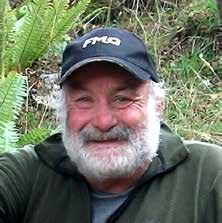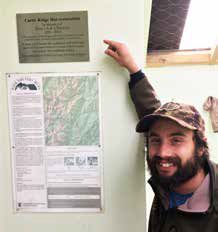 RESTORATION BEGINS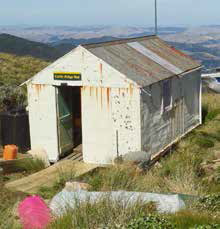 With the hut's future now secure, Tony took charge of the rebuilding program.
Plans were drawn up by Tony whose preferred builders were Dave and Evan Mardell from Mardell Builders Ltd, they have extensive DOC hut building experience behind them and have also done a lot of monitoring work for the Tararua Kaka Corridor project so using them was a no brainer. Rebuilding a hut in a mountain range, especially with the weather the Tararuas dishes up is a very expensive exercise. The rebuild was funded through DOC, the Tararua Aorangi Remutaka Huts Committee (TARHC) and Wellington Branch NZDA as a partnership.
Wellington Branch contributed $70,000 of which $35,000 was spent on helicopters flying materials and people in and out. The bulk of the flying was carried out by JD from Amalgamated Helicopters.
After flying in and carrying out a survey of what work needed doing and the materials required, work started in earnest.
The rotten foundations were replaced and the floor footprint extended by 2.5 metres but sadly, work came to an abrupt halt in September 2016 when Tony unexpectedly passed away.
Tony was the driving force behind the project and unfortunately a lot of the knowledge was held in his head.
Dave Mardell picked the project up but it was some time before all the build details, funding and pledges were sorted.
Another trip was made to re-measure and quantity survey what materials and work were needed. Work resumed in early March 2017 when the Mardell brothers flew in for two weeks together with a considerable amount of materials.
The hut was extended 2.5 metres which allowed the installation of an enclosed wet weather/porch area. This is key to keeping wet gear out of the hut interior to allow it to be dry and mould free. This is a big issue for some of the recently built huts in the range that have no porch. The old Forest Service food cabinet was removed and a new fire place installed there. A pot belly stove from the old Ngapotiki DOC hut on the Wairarapa Coast which was removed from there after constant vandalism was flown in. Unfortunately building regulations state that second-hand wood stoves cannot be re-installed so it was back to the drawing board. DOC stepped in and supplied a new pot belly and had a licenced installer put it in which solved a big headache. Existing windows were replaced with double glazed ones and a new window installed where the fire place used to be. The interior of the hut was insulated and new ply linings fitted. The exterior was battened and new corrugated iron fitted over the existing cladding. The notorious winds played havoc when the hut was being clad and Dave Mardell stated ''We had to drag the sheets of iron along the ground and when there was a lull put them up before the next gust came screaming up the valley''.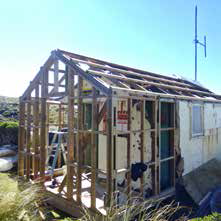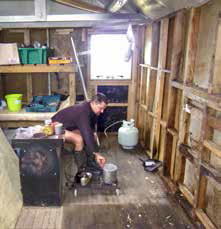 A big wood shed which DOC had started was then clad and roofed. A new stainless steel bench inside and a new rain water storage tank rounded the project off. During the build, the builders were watched by a mob of 'pet' deer which would bed down and observe progress from a few hundred metres away on nice days. Once the rebuild was completed, all rubbish was flown off the site.
The weather was so cold that the interior painting of the hut was not possible. This work was completed by Wellington Branch members at a later date.
THE RE-OPENING Multiple agencies and individuals assisted to fulfil Tony's vision for a newly restored Cattle Ridge Hut – DOC Wairarapa and local iwi, Amalgamated Helicopters, Rathkeale College, Pharazyn Trust, Mardell Builders , TARHC personnel and funds, Wellington Branch NZDA members helped with maintenance and painting.
Wellington Branch member Gwyn Thurlow, was instrumental in the setting up of a Memorandum of Understanding (MOU) between DOC and Wellington Branch NZDA so that both organisation's interests are documented, ensuring the hut is maintained annually and has a bright future.
Final closure of the project came on Saturday the 15th February 2020 when members of Tony's family, many of those directly involved in the project and representatives from contributing organisations were flown into the hut for an emotional re-opening. In his address to those present, Wellington Branch member Ed Trotter summed it up when he said ''Without Tony's passion and mahi we wouldn't be here today recognising and honouring his service to the cause, this hut, and all the benefactors past, present and future''. Tony's partner Ngaire cut a special Cattle Ridge Hut 2020 cake and son Joe unveiled a plaque dedicated to Tony which rounded off a remarkable adventure.
Tony's drive and passion for the outdoors, which he loved so much has brought about a restoration that will see Cattle Creek Hut serve another 50 years of trampers and hunters. NZHW REFERENCES: Hunting and Wildlife issue 183-summer 2014, Tony Macklin. Wairarapa Times Age, Saturday 22nd February 2020. Ed Trotter, Wellington Branch.
REFERENCES: Hunting and Wildlife issue 183-summer 2014, Tony Macklin. Wairarapa Times Age, Saturday 22nd February 2020. Ed Trotter, Wellington Branch.