Maungahuka hut was built in 2006 by the Department of Conservation and is managed by the Greater Wellington Backcountry Network. We have a Community Agreement with DOC for the management of this hut. This hut replaces the original hut built in 1962. The hut sleeps 10 persons.
Maungahuka hut was previously managed by the Wellington Tramping and Mountaineering Club, who still maintain an interest in the hut by undertaking maintenance when required.
The location of the hut close to the Tararua Peaks, well known for the ladder installed to enable traversing the peaks.
The first Maungahuka hut was built by the NZ Forest Service during the hut building program to support the deer culling operations in the forest park. The hut is one of 14 6 bunk S70 type Forest Service huts that were built along with 6 2 person "dog box" type bivouacs. Read about the NZFS deerculling huts here.
The new (10 bunk standard) hut built by Evan Mardell and James Coubrough of Wellington, , replacing a hut built adjacent to this site in 1962.
During 26 days of construction, based in the old hut, the builders endured a day of snow, 20 wet and windy days (with winds reaching over 100km an hour on some days) and just six fine days, when they were rewarded for their efforts with stunning Tararua views.
Maungahuka hut is a key hut on the Southern Main Range route but it can be difficult to get out of the area saftely in bad weather. An escape route exists, down the Concertina Knob track to Neill Forks. This may not be possible in extreme gale conditions. The Hector river is bridged at Neil Forks. (Photo Peter Laurenson, www.occasionalclimber.co.nz)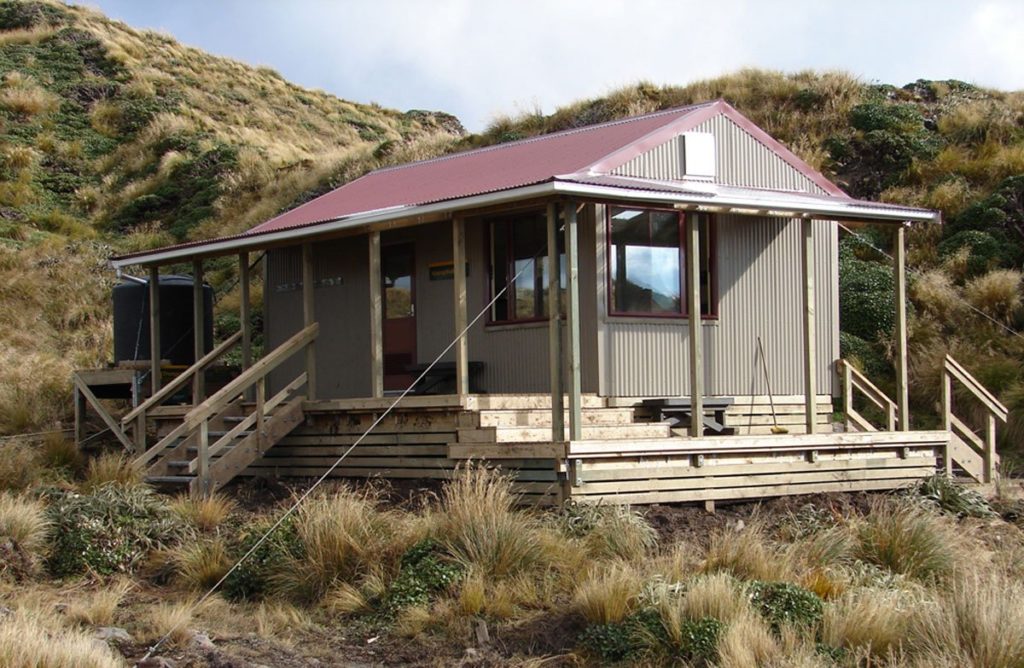 During 26 days of construction, based in the old hut, the builders endured a day of snow, 20 wet and windy days (with winds reaching over 100km an hour on some days) and just six fine days, when they were rewarded for their efforts with
Maungahuka hut 1966 below. Initially, the hut had no wood burner for heating or cooking. A wood burner was installed in the 1980s.(Photo Noel Frazer Collection)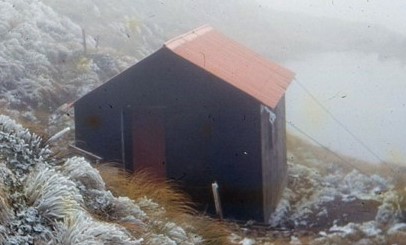 Below; Forest Service culler Ray Burrows on the Maungahuka tarn. (Photo Peter Hawkins)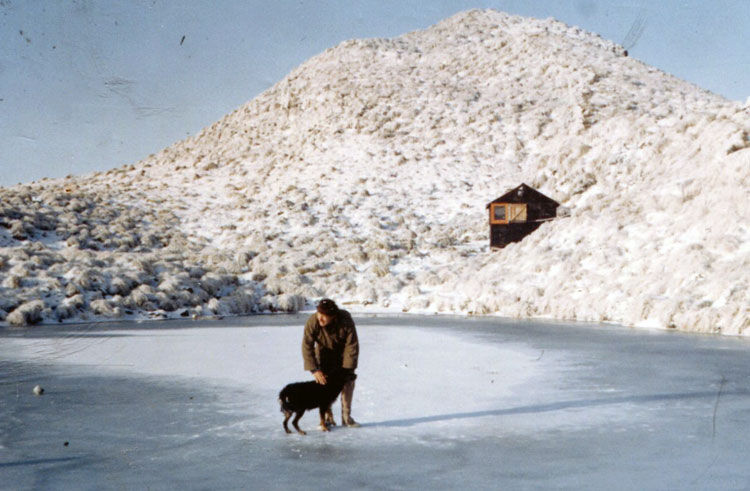 Forest Service deer cullers leaving Maungahuka hut. 1962 (Photo Ted Smith)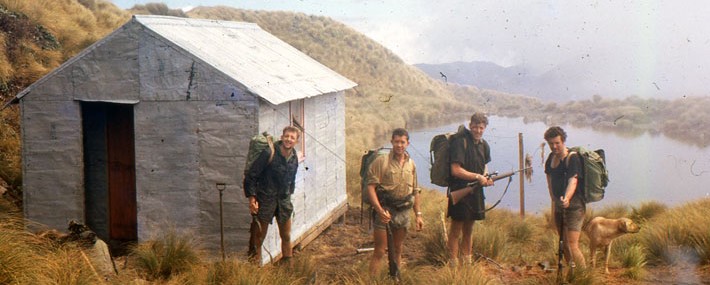 Second ladder (below) on the Tararua peaks. . Prior to the first ladder, an 80 foot long simple galvanized chain was installed by the TTC in 1933. This was replaced in the late 1960s due to difficulties some people encountered using it Photo Ted Smith