This hut is a classic tramping hut built in the 1950s by the catholic Tramping Club.
The exNZFS volunteer group have an agreement with DOC to manage this hut. The exNZFS is a group of volunteers that were employed by the NZ Forest Service as deer cullers. The aim of the group is to ensure the historical integrity of these iconic reminders of the deer culling era is retained. This group have management agreements with DOC to manage 12 huts in the Tararua, Remutaka and Aorangi forest parks.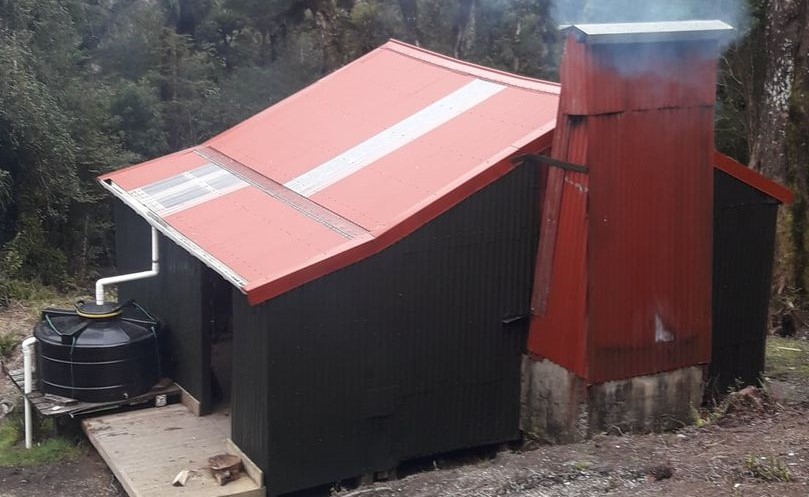 RENATA HUT GETS RESTORED
Grant Timlin and the team have taken on the big task of restoring the hut back to its former state. The Back Country Trust have funded this extensive project to restore a classic tramping hut and provide the public with another option for recreation in the Tararua range. Our DoC partners have also been very supportive with this project.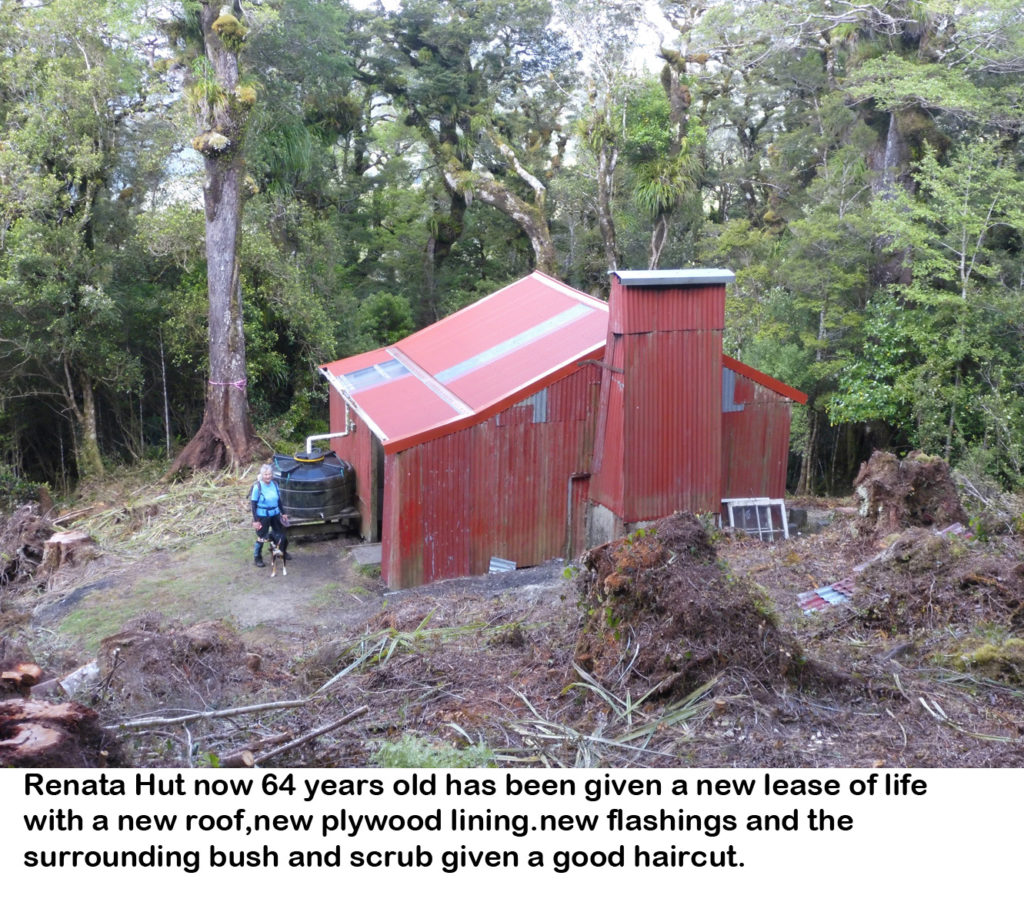 Grant and Barry Durrant and flew in from antler lodge on the 10th December. Jamie Hansen from Amalgamated Helicopters then dropped all the gear and materials next to the hut. Six loads in all. A couple of days later Dave Thomas and Aaron Jack walked in. They replaced the roof and sarked it with 12mm H3.2 plywood and replaced the purlins. We rebuilt the frame around the windows and fitted new double glazed aluminium windows with extra wide face flashing. Interior walls were lined with 12mm ply and replaced the old cooking bench with a stainless steel bench. The hut boasts the biggest open fireplace in the Tararuas. Funding was provided for the project by the Back Country Trust funded and generous support by Thomas Plumbing and Gas of Waikanae as well as the Plumbers, Gasfitters and Drainlayers Board. Provided some materials. Larry Reddington was most helpful in giving us access to his helicopter site. Initially the team worked 13 and 14 hour days for 10 days. Local DOC qualified chainsaw operators removed some trees and scrub around the hut site.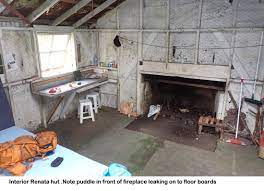 Inside, before restoration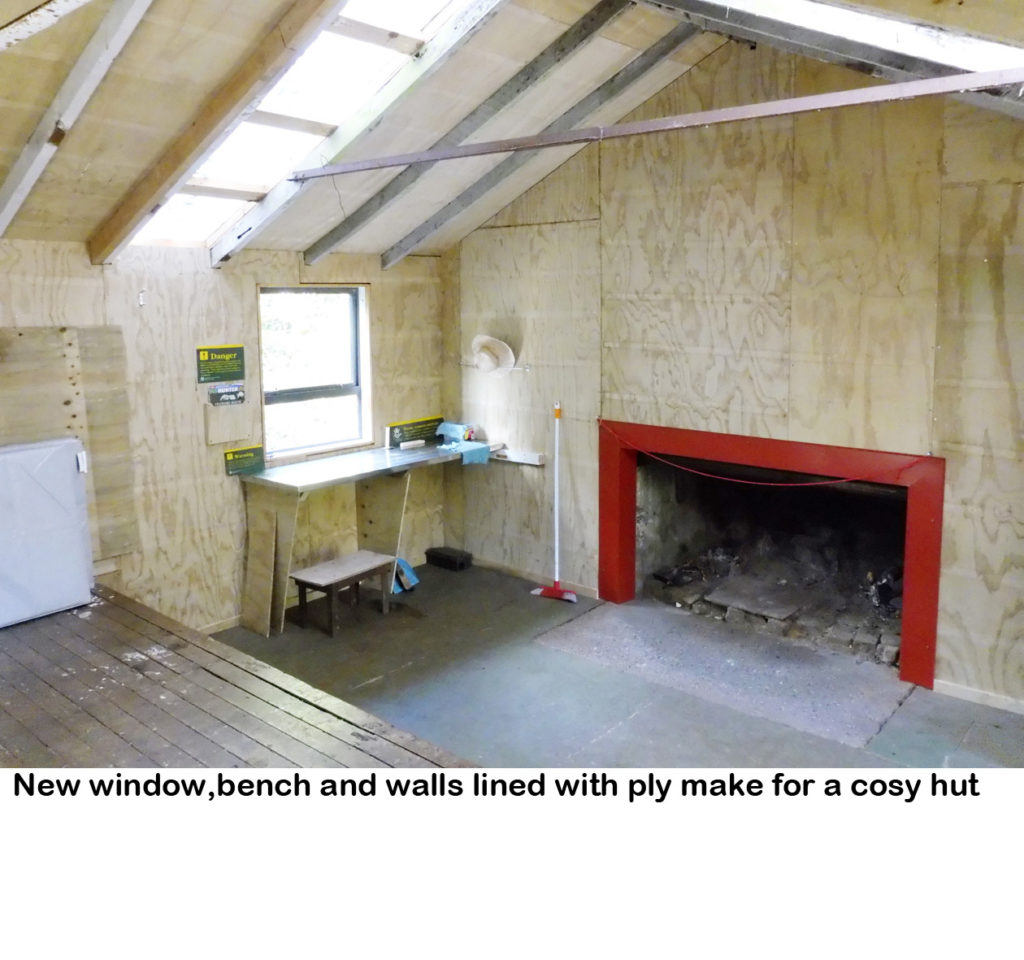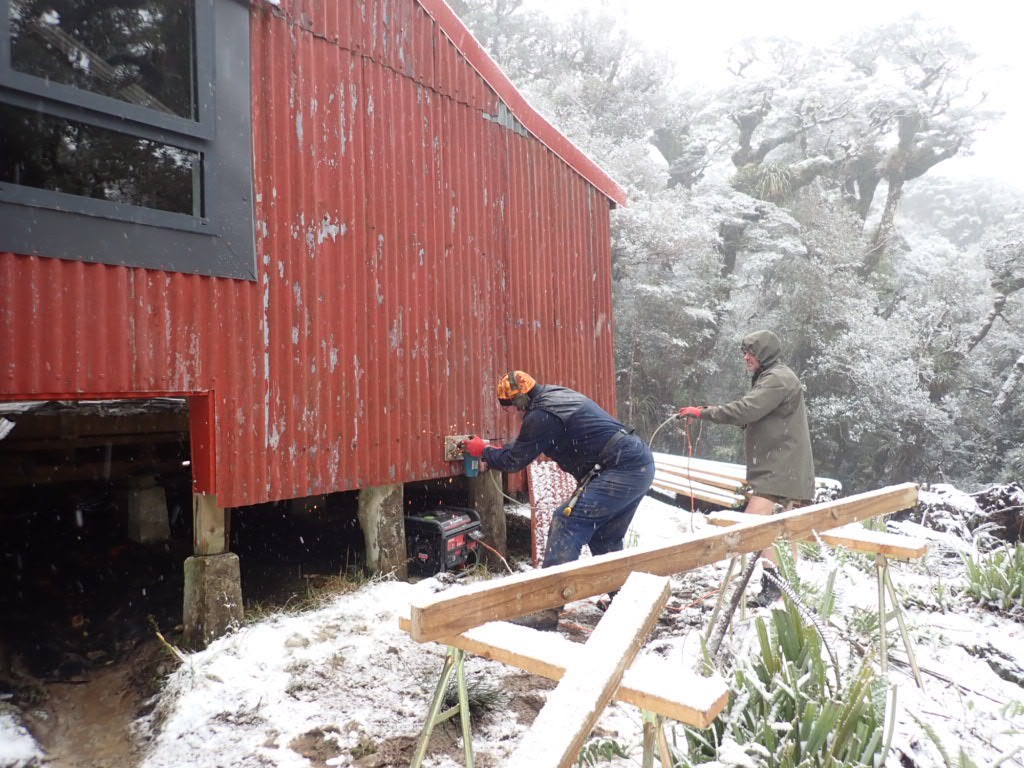 The Renata hut team led by ex Forest Service culler Grant Timlin flew a further seven loads into Renata including half a ton of cement, 250 meters of 4×2, piles, fixings and tools. They flew a couple of extra mattresses to provide for the expected hordes. The hut was cut off it's subfloor using a sabre saw then drove the double perimeter joists in with a big hammer. Four 1.5 ton hydraulic jacks were used to lift the hut while they replaced all the joists, bearers and piles. It went well. Dave Thomas, Aaron Jack and Grant worked for eight days on the subfloor.A couple of weeks later Dave and Grant went back to fit all the stainless steel fixings and attach the bracing and base boards. The exterior is yet to be painted when some warmer weather arrives.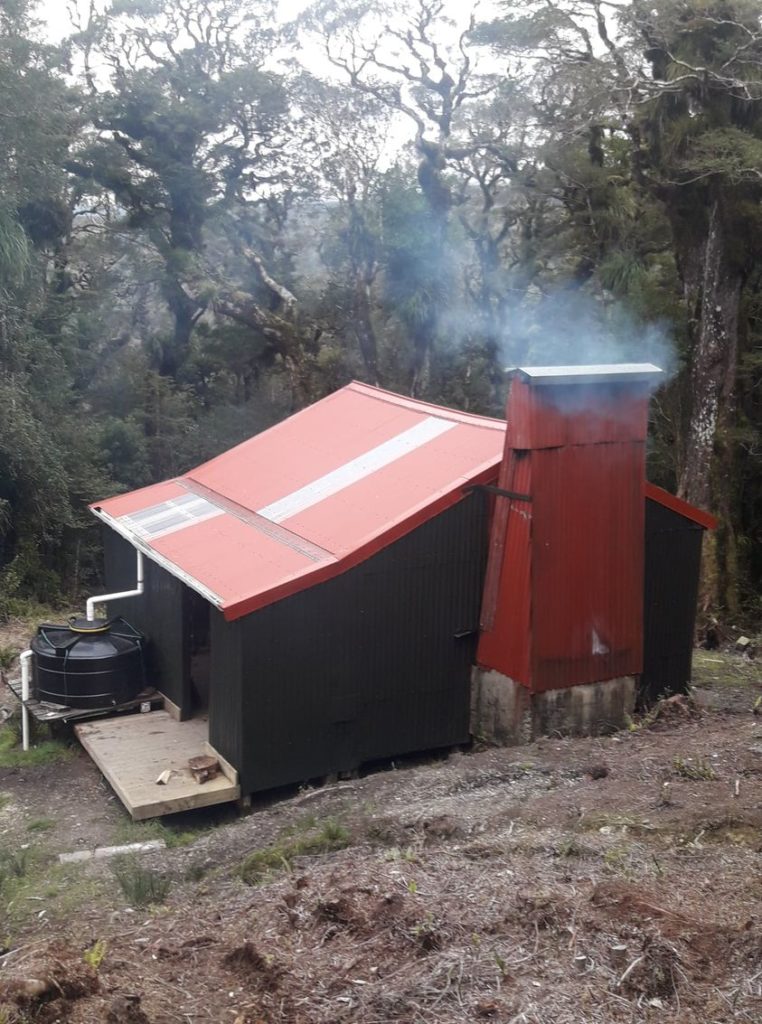 Renata Hut In early November there was a brief respite from the lousy weather so it was an opportunity for Grant Timlin and the Renata hut team to walk into the hut to finish the painting. It looks good with it's new DOC colours. More recently it was discovered that someone had cracked the new window by placing a very hot gas lantern on the sill. Once again Barry and Grant went in and replaced the double glazed unit and cleaned the toilet and replaced the log book for good measure. The logbook indicates the hut is getting a lot of use with more parties staying overnight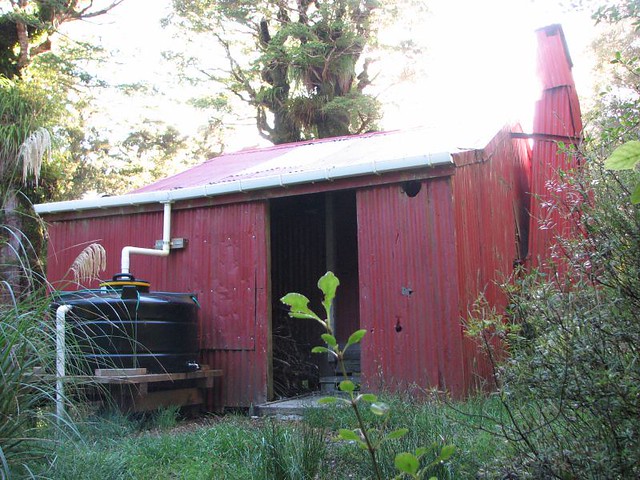 Renata hut before renovations