Mountain House Shelter was built by the Wellington Tramping & Mountaineering Club (WT&MC) in 2003. The shelter was built with the removal of Mountain House #2 which was due for replacement or removal. Mountain House #2 was built by the WT&MC in 1952.
The shelter is a popular destination for trampers walking the Gentle Annie track from Holdsworth roadend. Many also go on to Powell hut approxiamely one to two hours further up the Mt Holdsworth track.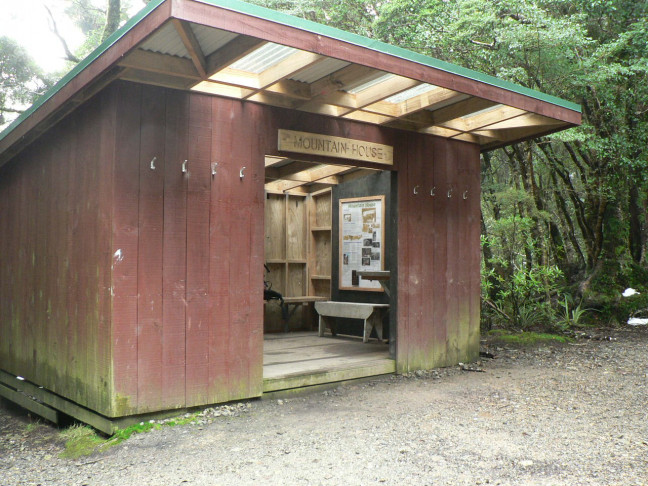 Mountain House Shelter (Photo Hutbagger.co.nz)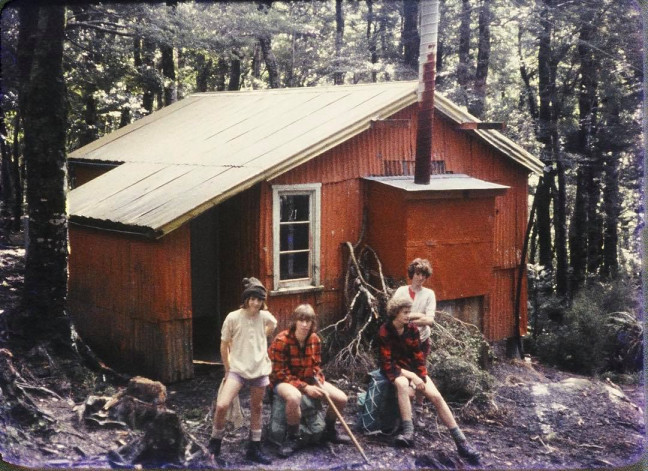 Mountain House #2 (Photo Hutbagger.co.nz)
Photo above – the extended Mountain House
Early Holdsworth tramping
Before 1907 many individuals and small groups had climbed Mt Holdsworth. However, Chas. Bannister, friends and supporters formed the Mt Holdsworth Track Committee in 1907. The old surveyor's route was re-cut into a well formed track later that year, and the first Mountain House was also erected. By the following year after these improvements were made, as well as a bridge across the Mangaterera Stream (Atiwhakatu), many people safely reached the summit — a popular trip ever since. (P Jagger – A Short History of the Pioneers and the Range
The first hut built on Mt Holdsworth was Mountain House. The hut was originally constructed in 1907 by men of the Holdsworth Track Committee (Messrs J.C. Ewington, W.M. Eashope, Duncan McGregor and Charles Bannister). They used in situ materials, using poles up to 5 metres long and 6 inches (150mm) in diameter. The building was clad in corrugated iron and boasted three rooms with separate men's and women's sleeping quarters. In 1910 the structure was extended to 5 rooms and 40 bunks with 2 chimneys. A major addition included the installation of glass windows. A horse paddock nearby housed the four horses, which ferried paying tourists to the hut. In 1922 a whirlwind took the roof off and a 1938 gale caused severe damage. In 1952 the Wellington Tramping and Mountaineering Club managed to raise £190 in 2 months and a new shelter was constructed on the original site, built by volunteer labour. Today's structure was replaced in the early 2000s and reflects the building's humble beginnings.