Kia ora koutou
Welcome to the this newsletter of the Greater Wellington Backcountry Network Inc.
After a lot of discussions over the last 18 months, the TARHC committee members finalized adopting proposed changes to the TARHC at the AGM of 10 October 2021. This saw the adoption of amended Rules, election of a new management committee and also name change to the Greater Wellington Backcountry Network Inc. The Rules and name changes were submitted to the Companies Office and Charities Commission and these changes were approved.
There are five members of the new committee, plus Chair, Vice Chair and Treasurer. The new members are Brett Gillies (Vice Chair), John Duggan, John Taylor, Allan McComb, Mike Thrupp, Owen Cox (Treasurer) and Derrick Field (Chair).
The committee members are independent and although nominated by the previous club reps on the old committee, do not represent any specific clubs interests.
We currently are short a Secretary. Anyone who is keen to take on this not very onerous role is welcome to contact us at info@tarhc.org.nz. Or message on the GWBN facebook page
The new committee hasn't had a chance to meet formally yet, a get together is planned for early in January 2023. A funding plan has been approved for the 2022/23 year and is now underway.
View the new Rules here click on Charity Documents. The rules file is at the top of the list.
In taking on the track and hut work we have to date, we've had great support from DOC Wairarapa manager Kathy Haukaumau and her staff. The normal funding contribution of $10,000 annually from DOC has continued, despite the difficulties the Wairarapa office are experiencing with a much reduced recreation budget. DOC has generally had big reductions in funding this year, and it seems they will have difficulty in contributing much additional backcountry maintenance work, to that of the GWBN.
One of our tasks is to seek additional funding sources, including charitable trusts so that our track and hut maintenance programme can continue. GWBN member Megan Sety has been looking into how we can best tap into funding sources availiable.
We have been fortunate again, to have another application to fund track work approved by the Trust House Foundation. An application to fund the maintenance of the tracks in the Totara Flats area was applied for and accepted. This means we should be able to complete the full 2022/2023 maintenance programme as planned. Main cost that will be incurred is helicopter hire to enable work to be undertaken in remote locations.
The GWBN now has a membership totalling 115, that includes 12 "corporate" groups ie clubs. A high proportion of members joining have indicated they may be able to help with volunteer work on huts or tracks. Making volunteer opportunities is being looked at. Work in an area like the Tararua has to consider the weather. So some remote work can happen, if scheduled start dates don't happen due to the usually Tararua weather conditions, volunteer teams need to have flexibility (or have backup members) to go when the weather comes right. As has been experienced, projects can easily fail to happen as the summer opportunities have been missed.
Finally, I want to wish all our members a great Chrsitmas and New Year, and safe recreation in our amazing forest parks.
Nga mihi nui
Derrick Field Chair GWBN
Interested in volunteering for hut or track upkeep? Or just want to keep in touch with whats happening in our forest parks? Become a member by registering here
Huts
Dorset Ridge hut; The 2022/23 summer hut maintennce programme has got underway, with repainting and repairs carried out on Dorset Ridge hut. This was done on behalf of the Horowhenua Hunters Club. A repaint inside out outside was completed, and the skylite reinstalled in the roof. The old food locker area was lined. A scrub bar was taken in, and the vegetation growth was cleared. Along with the track down from the ridge top.
Below – Dorset Ridge hut before and Alistair Barr at the hut after

Te Matawai; next hut for attention will be Te Matawai. The hut is looking pretty jaded, and repaint inside and out is planned. Being located on the TA Trail, the hut gets high use in the summer. Volunteer Emma Greg is leading a team to get the hut up to scratch early in the New Year.
Below – Te Matawai hut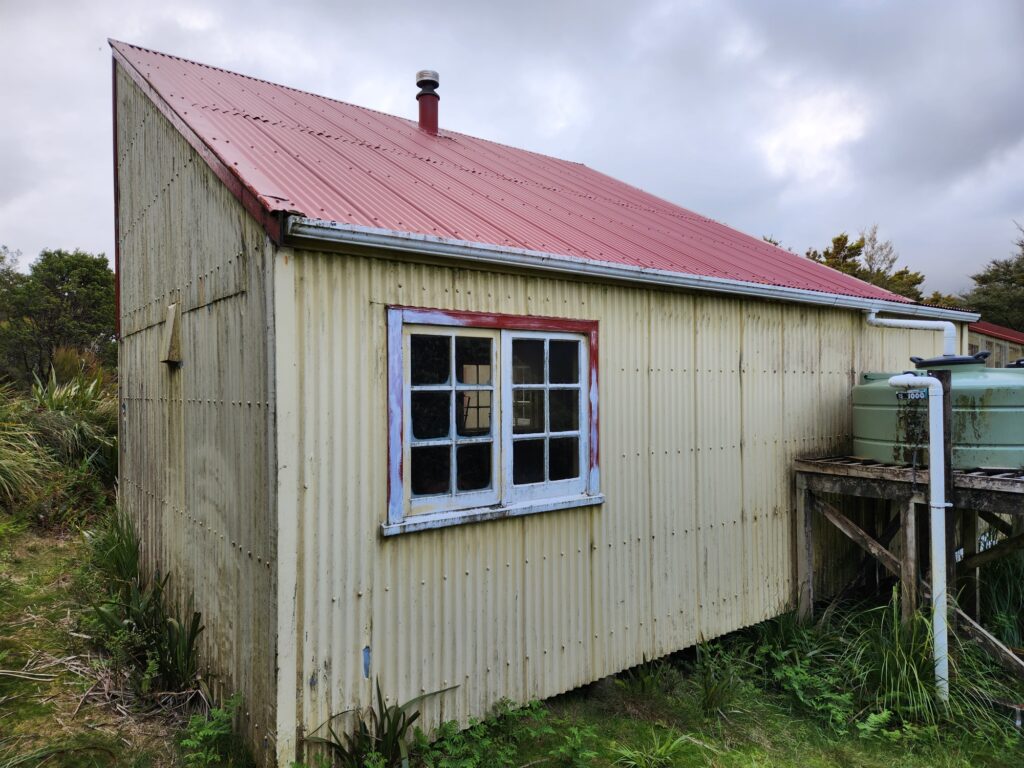 Alpha hut; has been become long overdue for a tidy up. An inspection by DOC and the BC Trust found that a fair bit of work is needed on the hut. Initial proposal was to completely reclad the hut but this has been deferred. This summer the Hutt Valley NZDA members will focus on getting the hut tidy, and do repairs to ensure further deterioration doesnt occur.
Below – Alpha hut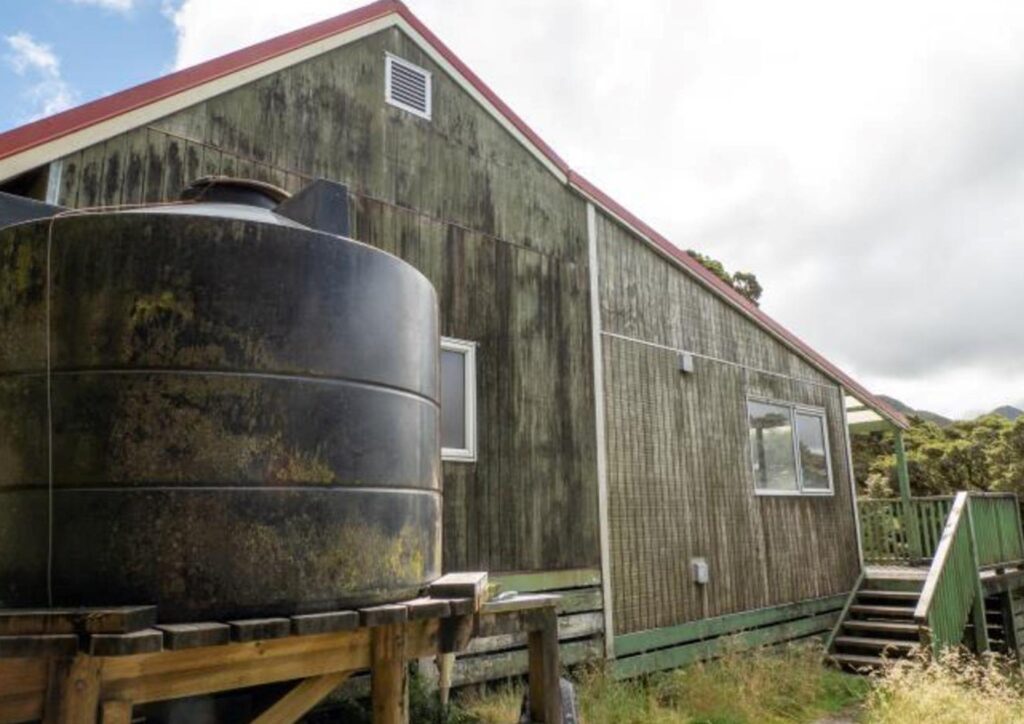 Waitewaewae hut; the HVTC is planning on doing more cleaning and mould removal at the hut. This will likely happen in conjunction with planned track work at Waitewaewae. Materials to repair the woodshed floor will be flown in also.
Below – The woodshed at Waitewaewe is getting a new floor as well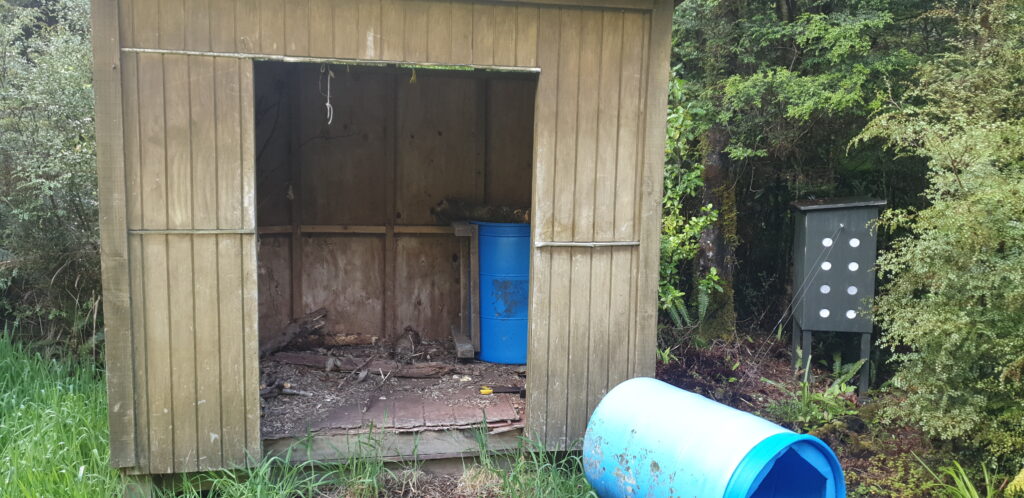 Nichols; with the high use this hut recieves by TA walkers, this hut is in need of a much larger water tank. This job was scheduled for last summer but Tararua weather prevailed. The Kapiti NZDA team will be doing this, along with a repaint of the loo hopefully in January weather permitting.
Below – Nichols hut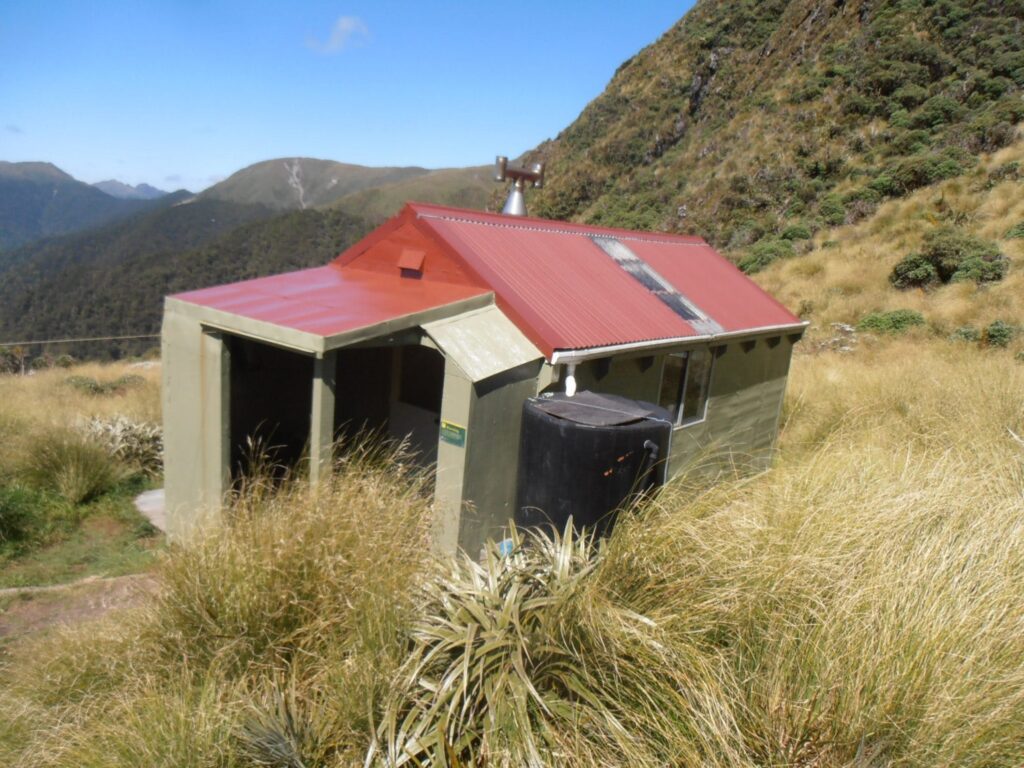 Cow Creek & Arete Forks; while at these huts cutting the Arete Sidle track, the opportunity was taken to clear much of the regenerating grass, Astelia and flax growth taking over the hut sites. Keeping vegetation regrowthg away from huts reduces deterioration of hut cladding and also increases sunlight into huts.
Below – the Cow Creek hut site, cleared.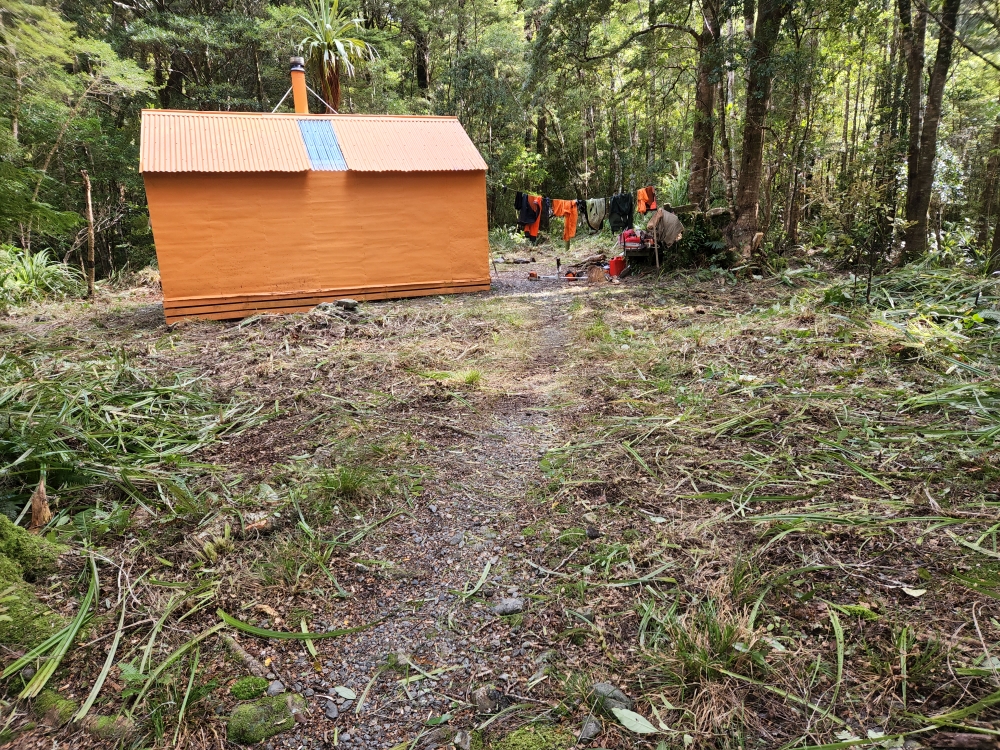 Maungahuka hut; a leaking tap has been a problem at the hut for a long time. This hut is one of the five that the GWBN has management agreements for. WT&MC member Tony Gazley and Sarah Fisher offered to take in a replacement tap and managed to get this done recently. In between bouts of bad weather on the Main Range tops.
Burn hut; the Horowhenua Hunters Club was supplied replacement exterior cladding from a local supplier, to repalce the initial cladding used on the hut. This cladding deteriorated and the supplier fronted up with another batch. The club is looking to reclald the hut pending a funding application to the Backcountry Trust.
---
Tracks
140 kilometres completed; GWBN volunteers have now maintained 140 kms of tramping tracks in the Aorangi and Tararua forest parks over the last 12 months. Additionally, 18 kms of chainsaw follow up work has been done on some tracks to remove windfalls. A total of 80 days involving 1200 total volunteer hours effort have been spent maintaining tracks. The Stihl FS460 scrub bar continues to be essential and total operating time has so far been 380 hours.
We now have management agreements with DOC Wairarapa for 55 tramping tracks in the Aorangi and Tararua forest parks totalling 310 kms. This constitutes the majority of the bckcountry track network in the two forest parks. Initially there is a bit of "catch-up" maintenance needed, but the aim is to complete approximately 60 – 70 kms of track upkeep annually, to achieve an ongoing maintenance of the track network to the standard needed by recreational users.
Arete and Waingawa tracks; This work was made possible by a generous grant from the Trust House Foundation to enable helicopter transport to these remote huts. The Sidle track was cleared of windfalls and vegetation regrowth, as was the Waingawa valley track to Mitre Flats. The Cow saddle and Lower Ruamahanga tracks had windfalls cleared also.
Below – Dave Eaton and Alistair Barr ready for the shift to Cow Creek hut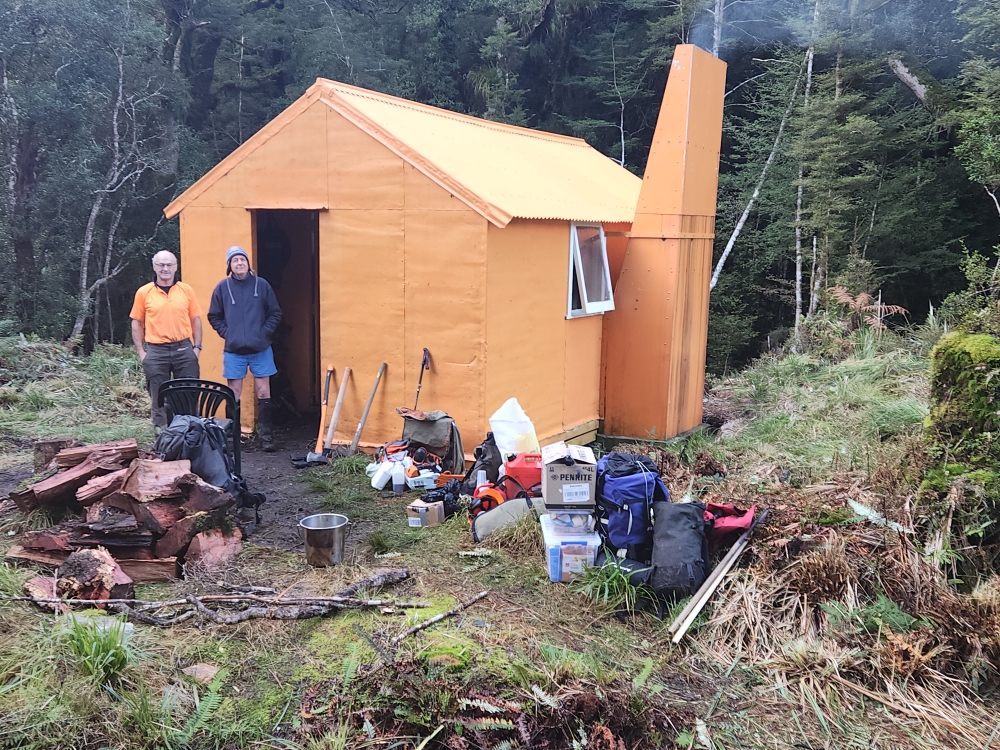 Chainsaws Assessments. after much discussion, DOC manager Kathy Houkamau has approved the use of chainsaws on basic tasks like track clearing, hut firewood etc. Providing operators have been trained and assessed by qualified training providers like Training Ventures Ltd. Steve Gray ran a session for four of our volunteers, (Don French, Mike Mulder, Gerald Leather,and Tony Spittal. All were successful is achieving the required NZQA Unit Standards for basic chainsaw use. The are also several members of the GWBN that already have these qualification. These gives us the flexibility to complete all work needed on tracks, rather than have to return later on with a qualified operator. First track dealt to using chainsaws was the Arete Sidle track, with experienced operator Dave Eaton doing the saw work.
New chainsaw; we now have an additional chainsaw to help with our track work. or hut firewood supply. Taking advantage of the generous discount we get from local Stihl Shop Masterton. A new STIHL MS 261 C-M chainsaw will be a big help in our track work. This complements our smaller Stihl MS 201 TC-M Z arborist chainsaw in handling almost all chainsaw work likely to be encountered.
Tauherenikau Tracks; the first track job to get completed in the 2022/23 summer has been clearing windfalls off the Tauherenikau valley tracks following our scrub bar clearing done last winter, and was done by GWBN volunteers (again) Dave Eaton helped by Don French. The team walked a total of 61 kms and worked for 38 hours. The windfalls on the track were making travel difficult for trampers, and its great to see the job done. Big thanks to Dave and Don.
Below – Dave dealing to a few windfalls near the Tauherenikau bridge.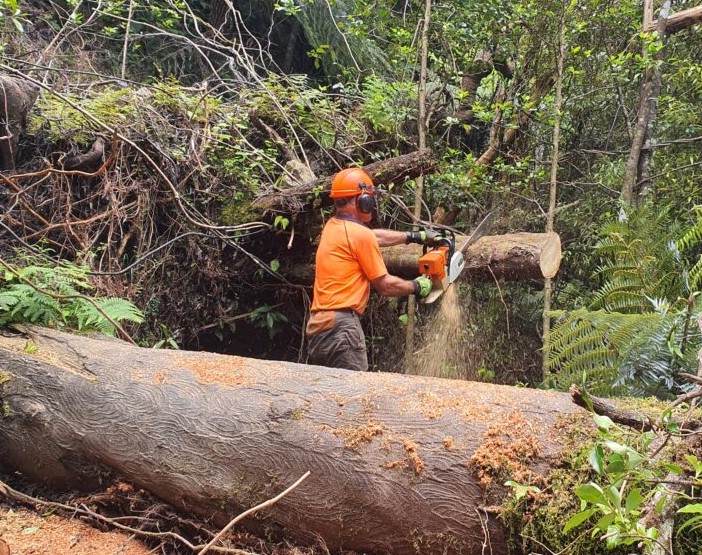 Another big track job was clearing vegetation off the Mt Frith track, near Featherston. The track is nearly 10 kms in length, and a total of 256 hours of volunteer effrt was spent getting the track back to a reasonable standard.
2022/23 Track Programme; scheduled work will be approximately 60 kms this summer.In addition to the Taherenikau valley work, and also the Totara Flats tracks, we have a fairly full programme of track work to complete this year. Several remote track networks are on the list.
Waitewaewae to Otaki Forks track; this track on the Te Aroa trail will be cleared using scrub bars and chainsaws. Helicopter transport for this work will be funded from the GWBN funds.
Renata ridge; The other scheduled track network needed helicopter transport is the Renata hut – Elder hut – Aston track, and also the track to Kapakapanui from Maymorn Saddle. Renata hut has had large maintenance job undertaken and there is increasing number of trampers using the area.
Depending on funding, weather and availibility of volunteers, other tracks that may be maintained include the Kapakapanui Hut Loop, Marchant Ridge, Smiths Creek – Block XVI (true right of river).
Want to support the GWBN volunteers maintain your huts and tracks in the Greater Wellington forest parks by helping with our funding for this important mahi? Click here to donate
---
NMSC Trip Planning App
The Mountain Safety Council (MSC) continue to update trip information on the Plan My Walk app with 8 Tararua tracks now available for trip planning.
The app, available for iOS and Android users, was developed by the MSC, and includes Met Service weather forecasts and gear lists as well as more than 1000 DoC tracks. Along with route descriptions, levels of experience needed to undertake the track are shown, as is current weather forecasts. Gear list, trip dates and emergency contacts can be provided.
---
The Greater Wellington Backcountry Network is supported by
---

This newsletter is published by the Greater Wellington Backcountry Network Inc. To contact us, email is info@tarhc.org.nz